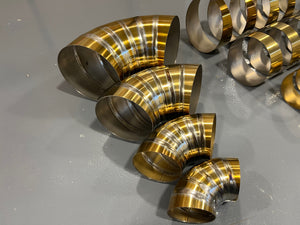 GOLD Pre-welded Pie Cuts - 90* bend - Tight Radius
Are you looking for that cool Gold color for your Titanium project? If so these pre-welded 90* pie cuts will give you that look while saving you tons of time and headaches in getting the color right. These are heat treated to give a nice and uniform Gold color, and then Robotic Fuse welded for the very cool Titanium Gold look.

6pc of Gold colored Pie Cuts pre-welded for you to make a 90* bend! Welded AFTER coloring.
1.2mm thickness, 1D Bend Radius (Tight Radius)
This will save you a lot of time and shielding gas for your project if you are looking for simple 90* bends, and well as tons more time if trying to achieve that GOLD look. Your time and shielding gas are valuable, save money with these pre-welded pieces.
These are done via a robotic fuse welding process, color is done prior to welding via heat treating as the Titanium material changes color. 
Please note that the welding process being done after coloring may result in some scratches in the colored sections.